| | |
| --- | --- |
| BIRMINGHAM LATHE | Specifications |
| Model | YCL-1440 |
| Size | 14" x 40" |
| Swing over bed | 14" |
| Distance between centers | 40" |
| Swing over cross slide | 8 5/8" |
| Swing over gap | 20" |
| Spindle hole dia. | 1 1/2" |
| Spindle | D1-4 Camlok |
| Spindle speeds | 45 to 1800 ( 16 speeds ) |
| Metric threads | 0.45 - 7.5 mm, 22 kinds |
| Inch threads | 4 - 112 TPI, 40 kinds |
| Width of bed | 8 1/8" |
| Main motor | 3 HP |
| Electrical | Pre-Wired 220V / 3 phase or 220V / Single Phase |
| Coolant pump motor | 1/8 HP |
| Machine Net Weight | 2000 lbs |


Use The
Next Or Previous
Arrow Button
To Scroll Thru All
BIRMINGHAM
YCL SERIES
LATHES
BIRMINGHAM YCL-1440 LATHE, New - Video
220 Volt / 1 Phase or 220 Volt / 3 Phase
Discount Prices ! Discount Prices ! Discount Prices ! Discount Prices !
BIRMINGHAM YCL-1440 LATHE
14" x 40" Lathe With Geared Headstock and Removable Gap Bed

Pre-Wired
220 Volt Single Phase
Or
220 Volt Three Phase
BIRMINGHAM YCL-1440 LATHE
DESCRIPTION & FEATURES
This 14" Swing BIRMINGHAM YCL-1440 Lathe is an all geared headstock 14" x 40" metal cutting lathe and will make a great new addition to your machine shop floor. Some of the many features included on this Birmingham 14" x 40" lathe are a one piece cast Iron base, a 3 HP main motor and a 1 1/2" spindle bore . It is equipped with inch and metric threading and requires no change gears for most thread cutting applications. The bed is made of a fine grain high tensile strength cast iron and the gears, shafts, bedways and spindle are all precision hardened & ground. The spindle on the Birmingham YCL-1440 Lathe is supported at three points by precision bearings and will assure your machinist of a good, solid and accurite cut for many years to come . Available with either 220 Volt Single phase or 220 Volt 3 Phase pre-wired electrics this Birmingham YCL-1440 Lathe is built to be a long time performer . Additional features and equipment include 3 and 4-Jaw Chucks, face plate, steady rest, follow rest, removable gap bed, 4-Way Tool Post, thread chasing dial, dead centers, reducing sleeve, full length splash guard, chip tray, foot brake, worklight and coolant system .
Taper attachment is optional but installation is free when ordered at time of purchase.
Birmingham Lathes - The Machinist Choice !
Standard Equipment
6" 3-Jaw Chuck, 8" 4-Jaw Chuck, 10" Face Plate, 3 3/4" Steady Rest, Follow Rest, Removable Gap Bed, 4-Way Tool Post, Stand, Thread Chasing Dial, Dead Centers, Reducing Sleeve, Full Length Splash Guard, Chip Tray, Foot Brake, Worklight, Coolant System.
FOR ADDITIONAL INFORMATION OR TO REQUEST A QUOTE CONTACT:
DAN BUCHANAN
TEL: 256-582-5353
Dealer of Birmingham Lathes for More Than 30 Years !


Copyright | B U C K S P R E C I S I O N M A C H I N E T O O L S | A l l R i g h t s R e s e rv e d
Optional Equipment
5C Collet Closer - Hand Lever Type
5C Collet Chuck - Front Operated
Taper Attachment
Micro Carriage Stop
Digital Readout: Newall, Acu-Rite or Birmingham Uniq
BIRMINGHAM YCL-1440GH Lathe
Accessories Package Includes:
3 and 4-Jaw Chucks

Steady Rest

Follow Rest

and More
Details Below
B U C K' S P R E C I S I O N M A C H I N E T O O L S
G U N T E R S V I L L E, A L A B A M A 3 5 9 7 6
TEL: 2 5 6 - 5 8 2 - 5 3 5 3 www.buckspmt.com





New
Machine Tools
by Name Brand are
Listed Below
Select a Link To
Go to the Index Page
of Your Choice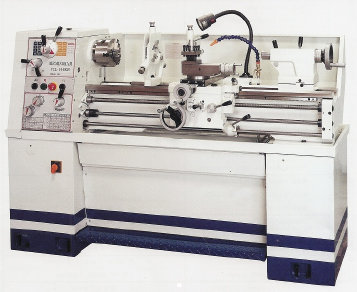 Website prices and/or specifications on this site are intended solely as a guide and are not binding . Call to verify or to request the latest price or specfication update. We are not responsible for clerical errors . Incoming freight charges are the responsibility of the purchasor unless otherwise stated and agreed to in writing
Birmingham YCL-1440 Lathe - Video

Watch Video Below