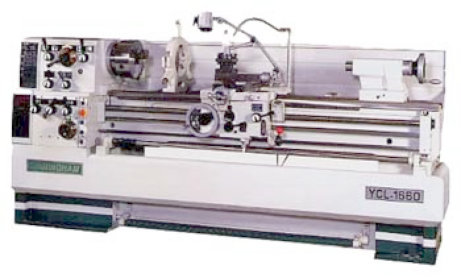 BIRMINGHAM LATHE
Details
Model
YCL-1640, YCL-1660
Size
16" x 40", 16" x 60"
Swing over Bed
16 1/8"
Distance between centers
40" or 60"
Max. swing over carriage
8 13/16"
Max. swing in gap bed
25 3/16"
Effective length in gap bed
9 1/2"
Width of bed
11 13/16"
Spindle nose
D1-6
Diameter of spindle thru bore
2 9/32"
Taper of spindle center
MT # 6 / ( sleeve #6 / # 4 )
Spindle speeds - 12 Steps

25 - 2000 RPM

Longitudinal feeds: 42 kinds
0.0011" - 0.0633" / Rev.
Cross feeds: 42 kinds
0.00033" - 0.01837" / Rev.
Metric threads: 41 kinds
0.1 to 14 mm
Inch threads: 60 kinds
2 to 112 TPI
Module threads: 34 kinds

0.1 to 7 mm

Diametral pitch threads: 50 kinds
4 to 112 DP
Max. travel of cross slide
12 3/16"
Max travel of top slide
5 "
Diameter of tailstock quill
2 3/8"
Taper of tailstock quill center
MT # 4
Max. travel of tailstock quill
4 13/16"
Main motor

7 1/2 HP Prewired 230V

440 V Prewired Upon Request

Coolant pump
1/8 HP
Net Weight: Birmingham YCL-1640
4,100 lbs
Net Weight: Birmingham YCL-1660
5,100 lbs
Standard Equipment
Follow Rest, 14" Face Plate, 7 1/2" Steady Rest,10" 3-Jaw Chuck, 12" 4-Jaw Chuck,
Coolant system, Automatic Kick-Out Longitudinal Carriage Stop, Full Length Foot Brake, Full Length Splash Guard, Work Light, Removable Gap, 4-way Tool Post, Thread Chasing Dial, Hand Oil Pump for ways, Centers & Sleeve, Tool Kit with Tools .
BONUS ! - FREE TAPER ATTACHMENT FOR A LIMITED TIME


DESCRIPTION & FEATURES
These 16" Swing BIRMINGHAM YCL Series Engine Lathes include the models YCL-1640 and YCL-1660 . With swing and center distances of 16" x 40" and 16" x 60" these Birmingham Lathes have proven themselves to be the choice geared head metal cutting lathe of the professional machinist . Some of the many features included on these Birmingham YCL Series Lathes are a one piece cast Iron base, Removable Gap Bed, 7 1/2 HP main motor, 2 9/32" spindle bore 60 kinds of inch threads, 41 kinds of metric threads, 34 kinds of module threads and 50 kinds of diametral pitch threads. No change gears are required for most thread cutting applications. The Birmingham YCL-1640 and YCL-1660 Lathes feature a fine grain high tensile strength bed and are a true metal cutting workhorse for todays machinist. All gears, shafts and bedways are hardened & ground and the main spindle is hardened & ground. Additional features and equipment on the Birmingham YCL-1640 and YCL-1660 Lathes include 3 and 4-Jaw Chucks, face plate, steady rest, follow rest, 4-Way Tool Post, thread chasing dial, dead centers, reducing sleeve, full length splash guard, one piece cast iron base, foot brake, worklight, coolant system, leveling pads, 4 position auto kick-out longitudinal carriage stop and tool box - and for a limited time we are including a free taper attachment - installed - at no extra cost.
Use The
Next Or Previous
Arrow Button
To Scroll Thru All
BIRMINGHAM
YCL SERIES
LATHES
Discount Prices ! Discount Prices ! Discount Prices ! Discount Prices !
BIRMINGHAM YCL-1640 LATHE
BIRMINGHAM YCL-1660 LATHE
Hardened and Ground
Gears, Shafts, Spindle
and
Bedways
BIRMINGHAM YCL-1640 and YCL-1660 LATHES , New
FOR ADDITIONAL INFORMATION OR TO REQUEST A QUOTE CONTACT:
DAN BUCHANAN
TEL: 256-582-5353
Dealer of Birmingham Lathes for More Than 30 Years !


Copyright | B U C K S P R E C I S I O N M A C H I N E T O O L S | A l l R i g h t s R e s e rv e d
Inch, Metric ,
Diametral Pitch
and
Module Thread Cutting

Optional Equipment
5C Collet Closer - Hand Lever Type
5C Collet Chuck - Front Operated - D1-6 Mount
12" Large Steady Rest
Digital Readout: Newall, Acu-Rite or Birmingham Uniq
Geared Head Gap Bed Engine Lathes
B U C K' S P R E C I S I O N M A C H I N E T O O L S
G U N T E R S V I L L E, A L A B A M A 3 5 9 7 6
TEL: 2 5 6 - 5 8 2 - 5 3 5 3 www.buckspmt.com





New
Machine Tools
by Name Brand are
Listed Below
Select a Link To
Go to the Index Page
of Your Choice



Website prices and/or specifications on this site are intended solely as a guide and are not binding . Call to verify or to request the latest price or specfication update. We are not responsible for clerical errors . Incoming freight charges are the responsibility of the purchasor unless otherwise stated and agreed to in writing